VIDEOJET® 1650 – ULTRA HIGH SPEED INDUSTRIAL INKJET PRINTER
The 1650 Ultra High Speed small character inkjet coder -  designed to operate at the extremes of packaging line speed.
LIÊN HỆ NHANH!
The Videojet 1650 Ultra High Speed small character inkjet coder represents the latest innovation from Videojet, building on over 40 years of beverage and high speed coding experience. Designed to operate at the extremes of packaging line speed, the 1650 UHS delivers the coding throughput you require but also brings advanced functionality to help improve your business.
High quality coding at high speeds
Videojet's Precision Ink Drop™ system provides precise
character formation, even at the highest speeds and
longer throw distances
Dynamic Calibration™ adjusts jetting parameters
automatically to ensure high quality print
Superior technology enables you to add content
without compromising speed
– Single line max speed = 1666 ft/min (508m/min)
– Dual line max speed = 694 ft/min (212m/min)
– Tri-line max speed = 588 ft/min (179m/min).
Engineered for extended runs
The Videojet 1650 UHS gives you an uptime advantage via:
CleanFlow™ technology resists ink buildup that can cause
ordinary ink jet printers to shut down
Long run time between preventive maintenance, up to
14,000 hour core life
Internal pump means no external air, minimizing potential
for contaminants to enter ink stream
Auto cleaning printhead for fast start-ups even after
extended shutdowns.
Simple usability via an advanced user interface
Productivity tools give you standard OEE metrics backed by
actionable data
Fool proof data entry helps you get the right code, in the
right place, at the right time, virtually eliminating errors
Large, responsive 10.4" touchscreen with intuitive navigation
simplifies operation and makes key data easily visible.
| | |
| --- | --- |
| Specification | Value |
| Printheads | 1 |
| Inks | Dye Based |
| Maximum Line Speed | 508 m/min (1666 ft/min) |
| Environmental Protection | IP65 |
| Maximum Lines of Print | 3 |
| Core Life (Maintenance Interval) | Up to 14,000 hours |
| Umbilical Length | 3 m (9.8 ft) optional 6 m (19.6 ft) |
| Message Storage Capacity | 250+ |
| Smart Cartridge™ | • |
| Plug and Play Printhead Modules | • |
| USB | • |
| Communications | Ethernet, RS232, RS485 |
| Linear and 2D Bar Codes | • |
| Positive Air / CleanFlow™ | • |
| Expanded I/O Ports and Control | • |
| Display (User Interface) | Touchscreen |
Beverage
Extrusion, Wire and Cable
Other Packaged Foods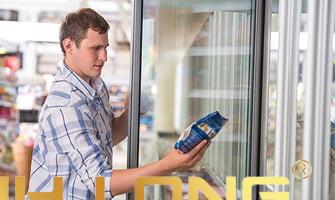 Electrical Components and Electronics
Meat and Poultry
Dairy